Until next time! That's all from us.
Benzema named Men's Player of the Year
Karim Benzema, Thibaut Courtois and Kevin de Bruyne are the nominations for the Uefa Men's Player of the Year award.
And it won't shock you to learn it's Real Madrid striker Benzema who takes the prize!
Putellas wins Women's Player of the Year
To the Uefa Women's Player of the Year award. And the winner is… Alexia Putellas! The Barcelona and Spain midfielder, who is the current Ballon d'Or holder and missed the Euros after tearing her ACL.
Ancelotti named Men's Coach of the Year
Perhaps no surprise here. Real Madrid boss Carlo Ancelotti, who guided his side to Champions League and La Liga glory, is named Uefa's Men's Coach of the Year.
Wiegman wins Uefa Women's Coach of the Year
And how about this! England's Euro 2022-winning boss Sarina Wiegman has been named the Uefa Women's Coach of the Year!
Group A: Liverpool, Ajax, Napoli, Rangers
Group B: Atletico Madrid, Porto, Bayer Leverkusen, Bruges
Group C: Bayern Munich, Barcelona, Inter Milan, Viktoria Pizen
Group D: Eintracht Frankfurt, Spurs, Sporting Lisbon, Marseille
Group E: AC Milan, Chelsea, Salzburg, Dinamo Zagreb
Group F: Leipzig, Real Madrid, Shakhtar Donetsk, Celtic
Group G: Man City, Sevilla, Borussia Dortmund, Copenhagen
Group H: PSG, Juventus, Benfica, Maccabi Haifa
That means Viktoria Plzen are the last side out of the draw and the Czech side will go into Group C with Bayern Munich, Barcelona and Inter Milan. Easy, eh…
Maccabi Haifa are next. They join Group H with PSG, Juventus and Benfica.
Dinamo Zagreb are drawn with AC Milan, Chelsea and Salzburg in Group E.
Rangers are out next. They go into Group A, which means Ajax, Liverpool and Napoli. Tough!
Now for Club Bruges, who head into Group B alongside Porto, Atletico Madrid and Bayer Leverkusen.
FC Copenhagen complete Group G, with Manchester City, Sevilla and Dortmund.
Marseille are next to be drawn. The French side join Frankfurt, Tottenham and Sporting in Group D.
OK, pot four, let's round off these groups…First up, it's Scottish champions Celtic! And they go into Group F with Real Madrid, RB Leipzig and Shakhtar Donetsk.
And finally, it's Inter Milan – which means Bayern Munich and Barcelona. Wow!
Shakhtar Donetsk join Real Madrid and RB Leipzig in Group F.
Sporting are out next, and the Lisbon outfit join Frankfurt and Tottenham.
Bayer Leverkusen go into Group B with Porto and Atletico Madrid.
Borussia Dortmund come out of pot three, and the only group they can go into is G – that means Manchester City and Sevilla. Erling Haaland's return…
Benfica go into Group H, which means they meet PSG and Juventus.
Salzburg are next out, they join Group E with AC Milan and Chelsea.
OK, pot three…First out are Napoli, and the Italian side go into Group A with Ajax and Liverpool.
Inter and Dortmund in pot three
Simon Gleave, head of sports analysis, Nielsen Gracenote: "In pot three, Internazionale are ranked ninth by the Euro Club Index, making them the team to avoid. Borussia Dortmund's Euro Club Index ranking of 17th indicates that they would also be a tough team to draw from this pot."
Atletico Madrid are the last team out of pot two and go into Group B with Porto.
Chelsea are the final English side out, and they will be joining AC Milan in Group E.
Barcelona head into Group C with Bayern Munich. That's a proper Champions League tie!
Sevilla are next out. The La Liga side join Manchester City in Group G.
Liverpool! One every team in pot one will want to avoid. They head into Group A with Ajax.
It's Yaya Toure's Tottenham Hotspur… And they're in Group D with Eintracht Frankfurt. You'd imagine Antonio Conte will take that…
Juventus are next, they go into Group H with Paris St-Germain. Tasty.
First out of pot two are German side RB Leipzig, and they will go into Group F alongside Real Madrid.
Who to avoid in pot two?
Simon Gleave, head of sports analysis, Nielsen Gracenote: "In pot two, Liverpool, Chelsea, Barcelona and Atletico Madrid are all worth avoiding as their Euro Club Index ranking suggests they are amongst the top-eight clubs in Europe.
"The most favourable opponent to draw from pot two is RB Leipzig."
And finally, Paris St-Germain go into Group H.
It's the holders! Real Madrid are in Group F.
Premier League winners Manchester City are in Group G. 
AC Milan, Serie A winners, are in Group E.
This gets more exciting once we reach pot two…
It's the Europa League champions – Frankfurt are drawn in Group D.
Porto go into Group B and German champions Bayern Munich are in Group C.
First out of pot one, drawn by Yaya Toure, are Dutch champions Ajax. They go into Group A.
Delivering the Champions League trophy to the stage in Istanbul is ex-Turkey international Hamit Altıntop, who featured for the likes of Bayern Munich, Schalke, Real Madrid and Galatasaray.
He's joined by Tottenham youth coach (and former Manchester City and Barcelona midfielder) Yaya Toure: "It was a pleasure to play for this trophy, special for me – winning in 2009 was very special, as a young African dreaming to one day compete for this trophy and being able to win it."
Sacchi gets President Award
Former AC Milan boss has been given Uefa's President Award.
"Arrigo Sacchi was a visionary coach," said Uefa president Aleksander Ceferin. "His teams were attacking home and away, he was never afraid – that's why Milan back then was unbeatable. It was a surprise to me a team could attack all the time, especially an Italian team!"
The Italian won successive European Cups in 1989 and 1990.
OK, we're under way in Istanbul… expect a bit of pre-amble and then the Champions League sides will discover their fate.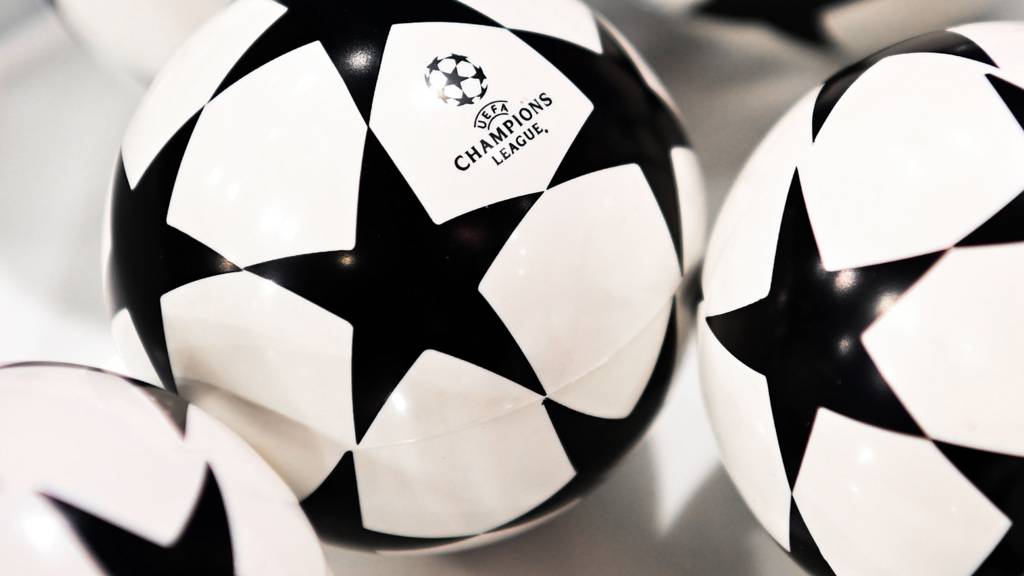 (Article source and credit: Alex Bysouth for BBC)